October 12, 2022 | One Brick Blog | Jana Kramer
Braised Beef Stew with One Brick Reserve Cabernet Sauvignon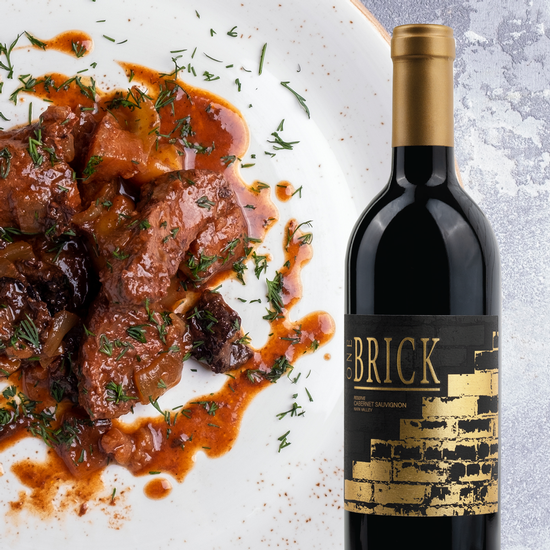 Ingredients
4 tablespoons olive oil
4 tablespoons flour
1lb beef, cut in cubes
2 tablespoons fresh garlic, minced
1 large onion, coarsely-chopped
1 teaspoon chili flakes
6oz can tomato paste
2 cups beef broth
1 cup One Brick Reserve Cabernet Sauvignon
14oz can diced tomatoes
1 tablespoon balsamic vinegar
1 tablespoons Worcestershire sauce
2 teaspoons dried thyme
1 large bay leaf
2 carrots, cut in 1 inch chunks
4 small potatos, scrubbed and quartered
salt and pepper
Directions
1. Heat the olive oil in a large stockpot.
2. Season the flour with salt and pepper.
3. Coat the beef cubes in the flour mixture to coat, shaking off excess flour.
4. Brown the beef on all sides, then set aside.
5. Add garlic, onion, and chili flakes to the pot, over medium heat, until soft.
6. Add the tomato paste; stir mixture for 2 minutes.
7. Stir in the beef broth and One Brick Reserve Cabernet Sauvignon, scraping up brown bits from the bottom of the pot.
8. Add the beef back into the pot, along with the full can of tomatoes, Worcestershire sauce, balsamic vinegar, thyme, bay leaf, salt and pepper. Mix well.
9. Simmer, uncovered on top of the stove for about 1 hour, or until the meat is tender.
10. Add the carrots and potatoes and season with salt and pepper to taste.
11. Cook for 30 minutes more, or until veggies are tender.
12. Enjoy with One Brick Reserve Cabernet Sauvignon and rustic bread.
Comments
Commenting has been turned off.