October 25, 2022 | One Brick Blog | Jana Kramer
Everyday French Onion Soup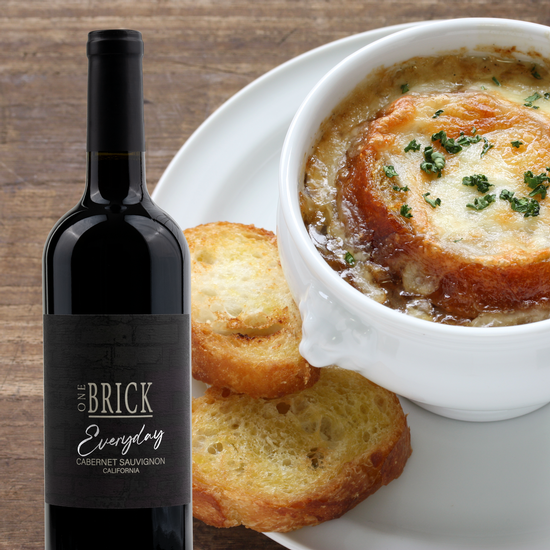 Deliciously easy, and perfect for Everyday!
Ingredients:
6 large yellow onions, thinly sliced
Extra virgin olive oil, enough to coat the onions
2 tablespoons butter
1 teaspoon sugar
Kosher salt
Garlic, minced (measure with your heart)
8 cups beef stock
1/4 cup Everyday Cabernet Sauvignon
1 Bay leaf
Fresh thyme
Fresh parsley, for garnish
Salt and pepper
French bread, sliced thick
2 cups Gruyere cheese, grated
1 cup Parmesan cheese, grated
Directions:
Peel and slice the onions from root to stem.
In a large pot, add olive oil and coat the onions. add half the butter and begin caramelizing the onions with olive oil and butter on medium heat.
Cook the onions, stirring often, until they have softened, about 15 to 20 minutes. Increase the heat to medium high. Add the remaining butter and cook, stirring often, until the onions start to brown, about 20 to 40 minutes.
Sprinkle the onions with sugar and a dash of salt. Continue to cook until the onions are well browned, about 10 to 15 more minutes.
Add the minced garlic and cook until fragrant.
Add Everyday Cabernet Sauvignon to the pot and scrape up the browned bits on the bottom and sides of the pot, deglazing the pot as you go.
Add the beef stock, bay leaves, and thyme, bring to a simmer, cover the pot and lower the heat to maintain a low simmer. Cook for about 25 minutes.
Season to taste with salt and pepper. Discard the bay leaves.
While the soup is simmering, line a sheet pan with parchment paper. Preheat the oven to 450°
Brush both sides of the French bread slices with olive oil, and a little salt.
Toast about 5 to 7 minutes, or until light golden. Turn the toasts over and sprinkle with the grated Gruyere cheese and Parmesan. Return to oven and bake until the cheese is melted and slightly golden.
Add soup into a bowl and top with one toast, and fresh parsley.
Pair with Everyday Cabernet Sauvignon.
Comments
Commenting has been turned off.