October 4, 2022 | One Brick Blog | Jana Kramer
Roasted Cauliflower and Fennel Soup Paired with Pop That Bottle Moscato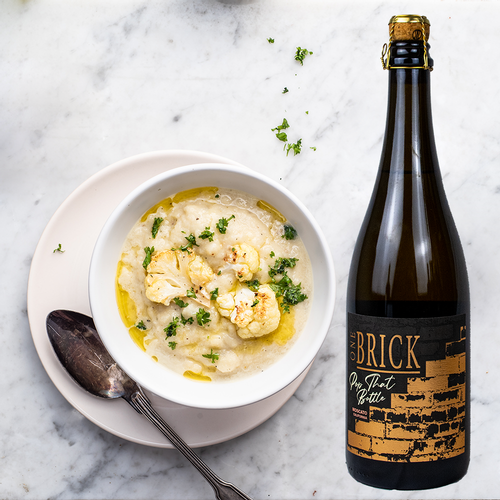 Ingredients
8 cups Cauliflower Florets
Olive Oil
1 teaspoon Cayenne Pepper
1 large White Onion, chopped
1 bulb of fennel chopped
2 cups chopped celery
Garlic, minced (measure with your heart)
2 tablespoons flour
4 cups Chicken Broth
1/2 teaspoon Dried Basil,
1/2 teaspoon Dried Parsley,
1/2 teaspoon Dried Oregano,
Salt and Pepper
Milk as needed
Fresh Parsley
Instructions
Preheat oven to 425°
Line a baking tray with parchment paper and lightly spray with nonstick cooking spray.
Add cauliflower to prepared baking tray and and drizzle with olive oil and sprinkle with 3/4 teaspoon cayenne pepper, and salt and pepper. Toss until evenly coated. Spread cauliflower out into a single layer.
Roast for 25-30 minutes or until starting to char on the edges. Reserve a handful of roasted cauliflower for garnish.
In a large pot, melt 2 tablespoon of butter with 1 tablespoon olive oil over medium-low heat. Add onions, fennel, and celery. Cook until translucent, stirring often.
Increase heat to medium high and add garlic and cook until fragrant. Sprinkle in flour and cook for additional minute, stirring continuously.
Reduce heat to simmer and slowly add in chicken broth and all seasonings.
Add the roasted cauliflower to the soup. Bring soup to a boil, then reduce to a simmer for 5 minutes or until thickened. Working in batches, puree soup in a blender. Add milk a little bit at a time until desired consistency.
Season with salt and pepper to taste.
Garnish soup with reserved roasted cauliflower, fresh parsley, and olive oil drizzle, then Pop That Bottle Moscato!
Comments
Commenting has been turned off.